The American Occupational Therapy Association's (AOTA's) annual conference has been a place where those in the occupational therapy field gather to share ideas, theories, studies, and tools. Let's take a look at the past conferences.
In 1917, the first officers of the "National Society for the Promotion of Occupational Therapy" included:
‍President – Mr. George Edward Barton
Vice-President – Mrs. Eleanor Clarke Slagle
Treasurer – Dr. William Rush Dunton, Jr.
Secretary – Miss Isabel Newton
The first conference in 1917 was held in New York, NY. A total of 10 conferences have been held in New York State, tied with California. While the conference has been held all across the United States, it was also held in Toronto in 1931 and San Juan, Puerto Rico, in 1977. The San Juan conference offered Spanish translations inside the guide for conference attendees.
Check out a gallery of conference guide covers and tell us about your first conference.
In the early conference days, movies were regularly shown. These ranged in length from 30 minutes to an hour and a half and covered a range of topics important to the profession.
Banquets were held at many earlier conferences, and usually came with their own invitation, separate from the conference guide. Most of these invitations appeared to be hand-drawn. These three-course banquets offered dishes such as filet mignon with mushroom sauce (1935, 1940, 1956), half spring Chicken au Cresson (1936), and Cornish hen stuffed with wild rice (1973). The banquet was usually at the hotel where the conference was being held.
Hospitality books were also given out at conferences, to let attendees know what was in the area to see or do, including area attractions, shops and restaurants, hair salons, and churches. Most books contained a map of the surrounding area.
In 1994, AOTA and the Canadian Association of Occupational Therapists had a joint conference, CAN-AM, in Boston. The cover featured English and French, as well as the welcome messages from the respective associations.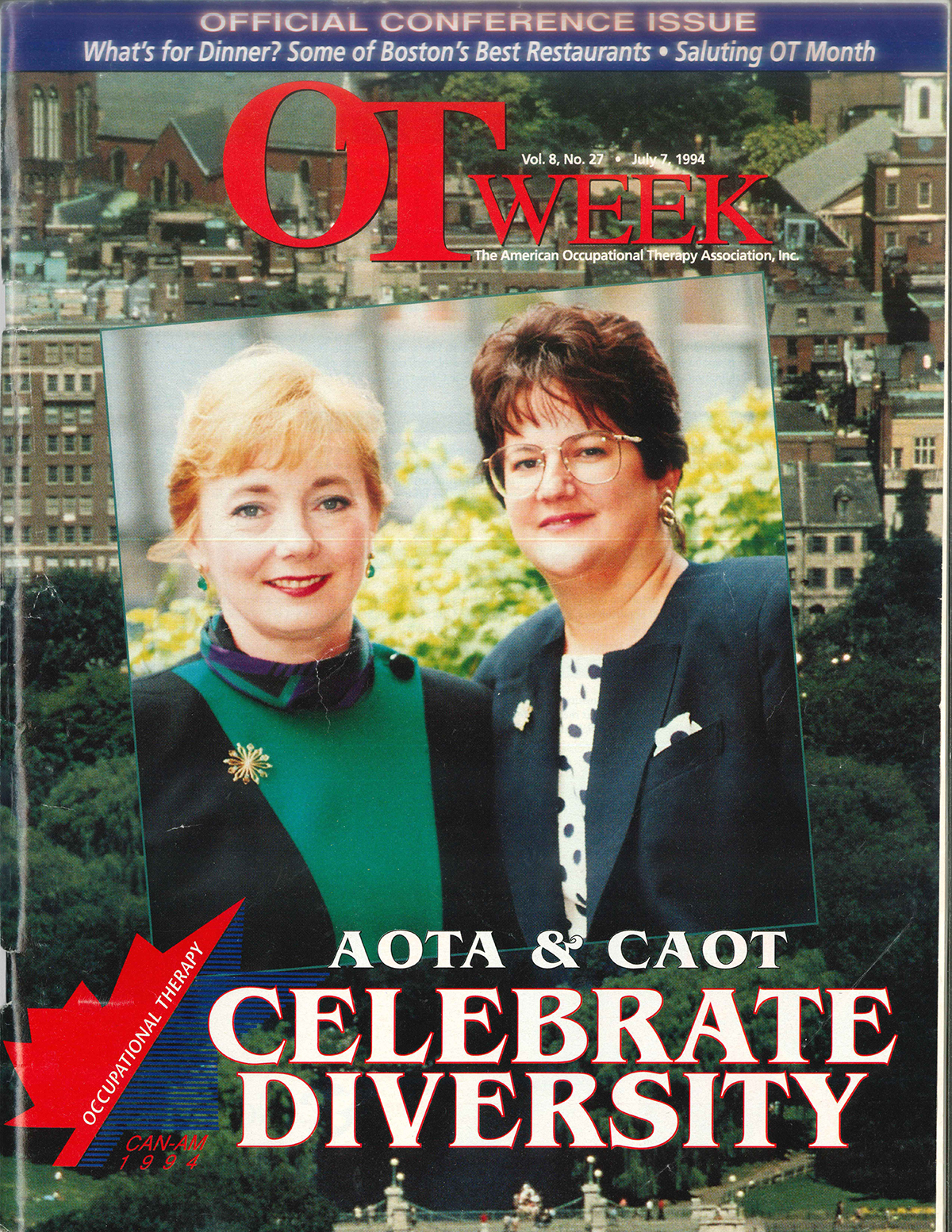 While conferences are a time to highlight different aspects of the profession, there were some timely topics that were discussed:
1960 – Occupational therapy in Outer Space
1965 –An Occupational Therapist's Observations Concerning President Kennedy's Assassination: Ramifications for Understanding Loss
1973 – Sex – The Male in a Predominately Female Profession
1986 and 1988 – Discussions on AIDS
1993 – Amish Views on Modern Medicine
1996 – Eating Disorders: A Sign of our Time
2003 – Army Occupational Therapy: From Reconstruction Aide to the War on Terrorism
2007 – OT Gulf Support: The Power of Occupation in Disaster Relief
2008 – Occupational Justice: Three-tiered Empowerment Model for Disability Policy in Post-war Afghanistan
2009 – Healing Warriors: The Role of Occupational Therapy in Warrior Transition Units
Domestic abuse and homeless shelters were also popular topics of discussion throughout the years